WEICON GMK 2410 Rubber Metal Adhesive Fast-curing, strong, permanently elastic

WEICON GMK 2410 is a solvent-based Polychloroprene (CR) contact adhesive used for strong and flexible full-surface bonding of rubber to rubber and rubber to metal.
WEICON GMK 2410 also bonds cellular rubber (e. g. neoprene), leather, felt, insulating material, textiles, wood, and many plastics. After curing, the joint is resistant to humidity.
WEICON GMK 2410 is not suitable for materials like e. g. expanded polystyrene, polyethylene, polypropylene, flexible PVC foam, and artificial PVC leather.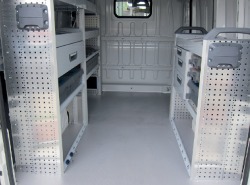 Applications:
Bonding rubber to metal plates
Bonding rubber profiles, door seals in motor vehicles and utilities
Fixing insulation material or sound absorbing foils/plates to construction parts
As economic allround contact adhesive for industrial applications
Preparation and processing:
The parts to be bonded must be clean and dry and free of dust or grease (WEICON Surface Cleaner). Roughening the surfaces increases the bonding power efficiently.
Stir WEICON GMK 2410 carefully prior to use. Then apply the adhesive evenly and in a thin layer onto both surfaces using a brush or spatula (smooth or finely notched). Let it dry for 5 – 10 minutes depending on layer thickness, ambient temperature and air humidity. On absorbing surfaces (e. g. felt), a second adhesive layer should be applied when the first layer has dried. As soon as the surfaces are dry but still a little bit tacky (finger test), the parts must be joined with a short but strong pressure.
Once the evaporation time has passed, the adhesive must be applied again. Non-cured exceeding adhesive can be removed with WEICON Surface Cleaner.
Delivery forms:
185 g tube, Art.-No.: 16100185 (available from January 2012)
300 g can, Art.-No.: 16100300
700 g can, Art.-No.: 16100700
5 kg bucket, Art.-No.: 16100905
25 kg bucket, Art.-No.: 16100925