WEICON Easy-Mix PE-PP
Construction Adhesive
fast - high strength - process-safe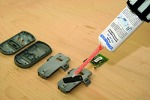 WEICON Easy-Mix PE-PP is a two-component construction adhesive on the basis of methyl acrylate. It is in particular suitable for structural, high-strength bonding of Iow energy plastics like PE, PP and TPE. A pre-treatment of the surfaces to be bonded is not required.
In addition, WEICON Easy-Mix PE-PP can be used as "universal adhesive" for plastics like:


Rigid PVC (polyvinyl chloride)
PA (polyamide)
PC (polycarbonate)
ABS (acrylonitrile-butadiene styrene)
PMMA (polymethyl methacrylate)
Fibre reinforced materials (GRP, CRP, fibre glass etc.)
and many others.
WEICON Easy-Mix PE-PP features the following characteristics:


No pre-treatment of the parts to be bonded ("integrated primer")
Short pot life and processing time
Fast development of strength
High final strength
Curing with residual elasticity
Aging resistant
Chemical resistant
Controlled bonding gap of min. 0.15-0.20 mm through special additives (glass beads)
Pasty, stable
WEICON Easy-Mix PE-PP can be used for individual applications as well as for small-lot fabrication or industrial series production, e.g. bonding and repair of small appliances, signs and displays, loudspeaker parts, battery housings, plastic tanks and many other plastic parts.
Processing
The prerequisite for perfect adhesion are clean and dry surfaces (e.g. cleaning and degreasing with Cleaner S or Plastic Cleaner). Smooth surfaces can be roughened mechanically, for example with grinding paper grain size P 120.
WEICON Easy-Mix PE-PP can only be processed with the WEICON Dispenser Pistol with special piston (10:1) and the special mixing nozzles for this system.
Optimum processing is at room temperature (+20°C to +25°C / +68°F to +77°F).
WEICON Easy-Mix PE-PP has a pot life and a processing time of approx. 2-3 minutes. Immediately after the application of the adhesive, the parts to be bonded should be joined, then positioned and fixed for curing.
The integrated additives (glass beads) provide a minimum thickness of the adhesive layer of 0.15 mm to 0.20 mm. This thickness is required for the chemical reaction between the adhesive and the plastic to be bonded. Best strength values are achieved with adhesive layers of 0.20 mm to 0.30 mm.
Physiological properties / health and safety at work
WEICON Easy-Mix PE-PP, when properly handled and completely cured, is toxicologically essentially harmless. When using the adhesive, the physical, safety technical, toxicological and ecological data and regulations in our EC safety data sheets must be observed.
Storage


6 months at 0°C to +4°C
3 months at 20°C to 25°C