WEICON Anti-Friction Spray MoS2
Dry lubrication with high pressure and temperature resistance
Anti-Friction Spray MoS2 forms a dust-, dirt- and water-rejecting separation layer with very good resistance to oils, greases and many chemicals. The product can be applied on almost all metal, plastic and wood surfaces.
The high portion of MoS2 provides a clean sliding lubrication, reduces friction, has excellent emergency running properties and reduces running noises.
Anti-Friction Spray MoS2 shortens and improves the slide-in conditions of sliding bearings, gears and other sliding contact surfaces, especially in conditions of high pressure and at low sliding speed.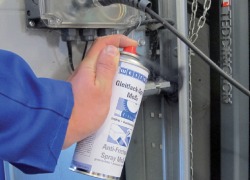 Properties:

Temperature resistant from –185°C (-301°F) to +400°C (+752°F)
Aging and weathering resistant
No resinifying
Extremely pressure-resistant
Constant coefficient of friction
Good lubrication also in case by case operation and after long standstill periods
Radiation resistant
Vacuum resistant
Free of silicone
Applications:

On sliding and running rails and guides
On conveyor belts, conveyor rollers and chutes
As coating on cutting tools
On products of loading installations, e. g. loading bridges, sectional gates, roller shutters, loading sheets or elevating platforms
As alternative to silicone-containing release agents and wherever oil or grease lubricants are not permitted or desired.
Directions:
Clean and degrease surfaces prior to application (e.g. WEICON Surface Cleaner). Shake can until the mixing ball is clearly heard. Spray on cleaned and dry surface from about 20 cm distance. In case of continued use, shake can again from time to time. At room temperature (+20°C/+68°F)), the coating is dust-dry approx. 15 minutes after spraying.

Packaging:
400 ml spray can, Art.-No.: 11539400